An Indie Developer Is Bringing Back The First Metal Gear Game With Unreal Engine 4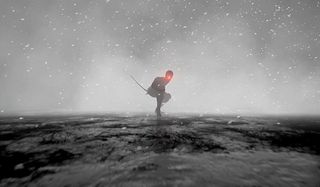 It should come as no surprise that the next Metal Gear game won't have Hideo Kojima at the helm; or anyone you're familiar with, for that matter. That's because the next Metal Gear game is an unofficial remake of the original Metal Gear Solid, being rebuilt in Unreal Engine 4 by Airam Hernandez.
Called Shadow Moses, Hernandez's game takes players back to Solid Snake's first adventure on the original PlayStation, when he needed to infiltrate a snowy base in order to take out a bunch of soldiers, overpower a collection of super-powered bosses and even go toe-to-toe with a walking war machine.
As Hernandez clarifies on the Shadow Moses Facebook page, this Unreal Engine version of Metal Gear Solid is being done as a passion project, and he won't be making a dime off of it.
Hernandez states that copyright issues are exactly why Shadow Moses is being developed in full daylight, in the hopes that Konami will allow the team to keep working toward their final product.
If you grew up on Metal Gear like I did, then the above trailer was likely a bit mind-boggling. I remember every single location shown off in the trailer in great detail, and it looks like Hernandez and anyone working alongside him is absolutely nailing it.
This isn't the first time Metal Gear Solid has received a reboot, however. An updated version of the game eventually appeared on the GameCube, and there was even a flashback mission in Metal Gear Solid 4 that let players briefly return to the classic world of the original game.
As for the future of the series, there's something of a big question mark hanging over the head of Metal Gear. Last year's Metal Gear Solid V: The Phantom Pain was a hit with fans and critics alike, but it also launched amidst a very public and very messy breakup between Kojima and Konami. Now that Kojima has moved onto his next venture, it appears that Konami is indeed hiring position for a new Metal Gear game. Whether or not that will ever see the light of day remains to be seen. Also unclear is how fans will respond to a Metal Gear without Kojima behind the wheel. You can't exactly imitate that man's unique brand of brilliant insanity.
Otherwise, here's an idea you can have for free, Konami: Hire Hernandez and company, give them support and let them finish building Shadow Moses legitimately. Another remake of Metal Gear Solid wasn't exactly on my radar until I watched the Shadow Moses trailer, so I say bring it on.
Your Daily Blend of Entertainment News
Staff Writer for CinemaBlend.