Angels Online Assassin Class Joins The Floating Island Update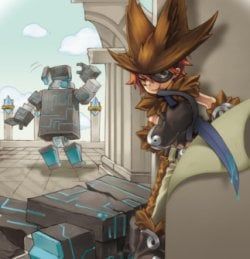 The big new expansion for Angels Online is on its way and with it comes a brand new character class called the Assassin. IGG sent out a preview for some of the skills and abilities that will be available with the new playable class.
According to the press release…
It seems a little odd tossing a ninja assassin in amongst the angels, but who really wants to argue against playing a kick-butt assassin, really? In addition to announcing that the new class will be available to play you can check out some of the features and attributes of the Assassin below.
For more information on the new floating island update for Angels Online, be sure to visit the Official Website.
Assassin's Profile
Attributes
There is no doubt that Agility is an essential attribute in pulling off daring and dangerous missions and quests. Assassins take this to heart – they feature the highest Agility in AO, allowing them to master quick attacks and movement. They are faster than Swordsmen and have a higher Crit Strike chance than Archers. As if that were not enough, they can also buff themselves with various effects. When faced with an enemy this skilled, its kill on the first strike or escape, if you can...
Skills
Assassins have the typical skills that are shared by most of the melee classes, but as they grow in power, they will be able to use their deadly class specific skills, "Shadow Blade", "Avatar" and "Assault". These skills allow for the infamous Stealth, Avatar and Assassination abilities.
Stances Assassins can also learn most of the stances shared by the melee classes, but what sets them apart are the poisonous flying blades that can damage a target continually. Add to this the debuffs they can enhance their blades with, and those opposing them won't last long.
Your Daily Blend of Entertainment News
Staff Writer at CinemaBlend.