Armored Core 3: Portable Now Available For PSP Via PSN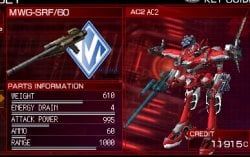 FromSoftware announced today that the portable version of the famed giant-robot game, Armored Core is now available for PSP users. The game sports some kick-butt customizable robots, more missions worth counting, and enough variations in firepower to make any gun-totting mech-fan happy.
According to the press release…
The game also has some party-mode play for Ad Hoc use, and did I happen to mention that the graphics aren't too shabby either? Well, they aren't…just in case you were wondering. I mean, this isn't the Nintendo DS, anyway.
You can check out a full list of the game's features below, which are quite impressive for a handheld game. Armored Core 3: Portable is currently available for the PSP for $14.99. If you're also a console owner you might want to check out Blend Games' own review of Armored Core 4 for the Xbox 360 and PS3. For more information on AC3: Portable be sure to visit the Official Website.
Game Features
• Over 50 action-packed missions
• Enhanced menu interface and in-game visibility
• Pilot a fully customizable AC unit, configuring weapons, parts, armor color and emblems
• Over 200 parts available to assemble and create your own machine, including parts from the previous games in the series
• PSP (PlayStation Portable) Ad Hoc Network support; easily battle up to four friends using a wireless connection
• Challenge opponents nationwide over the Ad Hoc Party on PlayStation 3 (PS3)
• A new opponent from the Japanese Armored Core novel
• Future-proof data can be saved and transferred to future Armored Core PSP titles
Your Daily Blend of Entertainment News
Staff Writer at CinemaBlend.