Armored Core Last Raven Portable Stomps Onto PSN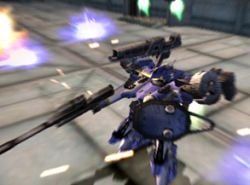 From Software's latest mecha action game has been released for PSP gamers via PSN. The budget-priced action title features brand new story missions, new head-to-head modes and more mech parts than you can shake a steel rod at.
Armored Core Last Raven was originally introduced to gamers on the PlayStation 2, and given its popularity, From Software has made some changes, added some features and upgraded the gameplay for PSP owners.
You can check out a full list of the game's features below, including 500 mechanized parts to build a custom Armored Core unit, which is the action gamer's equivalent of decorating houses in the Sims 3.
Armored Core Last Raven Portable is currently available for only $14.99. To learn more about the game be sure to visit the Official Website.
Features:
• Ad Hoc multiplayer mode allows up to four players to battle against each other
• Over 500 mecha parts to build your own AC unit, including some remake parts from past Armored Core games
• New AC opponents
• Branching story and multiple endings
• New game features: part breaking and a replay save system
• The game save from Armored Core 3 Portable and Armored Core Silent Line Portable can be transferred to this game.
Staff Writer at CinemaBlend.