Assetto Corsa Screenshots Feature The Lotus 49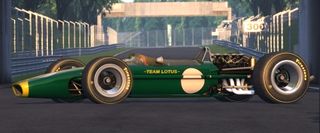 Kunos Simulazioni have unleashed a new set of screenshots for their upcoming racing title, Assetto Corsa. The game will be a PC exclusive that gets back to the basics of a PC centric simulation and the new screenshots show off a Lotus taking some tight corners on a test track.
The team even commented on having the ability to put the Lotus 49, classic roadster to work in the upcoming sim, saying...
According to Kunos, the car puts their physics engine under a lot of stress and strain with the nimble grip tires and lightweight chassis. So gamers will have a serious challenge trying to keep top speeds while taking sharp turns in a very feathery car.
I'm sure a lot of gamers are comparing this to Slightly Mad Studios' upcoming Project CARS, and while Assetto Corsa doesn't quite have the visual depth as the former it does boast a very physics-oriented experience for those looking for something that's as fun as it is realistic.
You can check out the brand new Lotus 49 screenshots and the test track below or pay a visit to the Official Assetto Corsa Website to learn more about the upcoming game from the Italian designers, Kunos Simulazioni.
Image 1 of 14
Your Daily Blend of Entertainment News
Staff Writer at CinemaBlend.