Audere Semper Is An Emotional Point-And-Click Adventure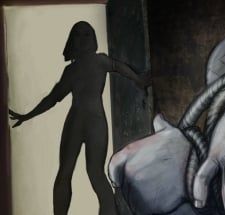 What happens when you bring in the artful talents from Fabrizio Fiorentino (from Marvel, DC Comics), combine that with 15 plus hours of interactive point-and-click gameplay and toss in an original storyline? You get Audere Semper by 10th Art Studios.
The game's plot surrounds a wannabe journalist, Eliza Flavi, as she stumbles across a decoded message that takes her on a mysterious and daring adventure. This third-person point-and-click game takes players through the historically engaging and beautiful sites of Rome.
In all honesty, it looks like an interesting game, but looks can be deceiving. As more info is released we'll be sure to share it with you here at Blend Games. In the meantime you can check out some screenshots below as well as the fact sheet.
Audere Semper Fact Sheet
- A dark, thrilling and original story of the adventures of a young wanna-be journalist, Elisa Flavi.
- Over 35 locations and 20 characters created by 10th Art Studios, featuring Fabrizio Fiorentino
- Interactive play, dialogues and challenges for a 15+ hours gameplay experience.
- The story is set in Rome, whose most important monuments and square will be perfectly reproduced and used as part of the game.
- Special double cut-scene techniques for fully realized dynamic visuals: Full Motion Video combined with pre-rendered hand drawn cutscenes are creatively integrated within the game so players will experience a full emotional range for main characters.
- Unique Gameplay by the use of "Interactive Ideas" Elisa will add notes to her diary during the game, which can be used as inventory objects to solve riddles or talk with other NPC.
- 60 minutes of original soundtrack.
Image 1 of 4
Staff Writer at CinemaBlend.