BMW's Level 10 M Gaming Mouse Now Available In UK, Coming Soon To US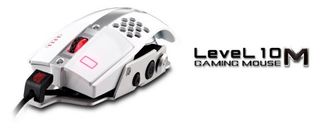 You know that really sexy, sleek looking gaming mouse from Thermaltake and BMW? That Level 10 M Gaming Mouse? Well, it's currently available right now for purchase from Amazon's UK outlet and you can add the mouse to your cart for safe keeping on the US version of Amazon because it's not available yet for North Americans.
Thermaltake and BMW threw a nice little party to celebrate the release of the Level 10 M Gaming Mouse, as it marks a real milestone achievement for the company, bringing out such a classy piece of gaming hardware after first announcing the device earlier this year during the Consumer Electronics Show.
The mouse itself has a similar design to that of a BMW car, featuring smooth lines and moderately rounded curves, it also comes in the signature gloss-black and matte-white color schemes usually associated with the BMW cars.
With a laser-sensor engine at its core, 8200 DPI and 11 programmable buttons for you to fiddle around and customize to your liking, the Level 10 M is a nice addition to any enthusiast's hardware collection. The best part about it is that it's only $99.99 and that price carries over to Brits as well, with a £99.99 price tag.
You can order your very own BMW designed gaming mouse right now (if you live in the UK) from Amazon. For North American gamers you can visit the Amazon page to add the item to your cart so that when it does become available you can grab it up as quickly as possible.
Staff Writer at CinemaBlend.
Your Daily Blend of Entertainment News
Thank you for signing up to CinemaBlend. You will receive a verification email shortly.
There was a problem. Please refresh the page and try again.