Banished Knocks DayZ Out Of Steam's Top Sales Spot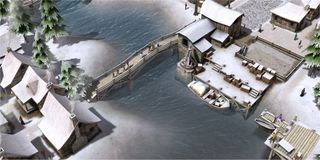 The number one selling game on Steam for the past three months has been DayZ, the open-world, apocalyptic zombie-survival game from Dean "Rocket" Hall and crew at Bohemia Interactive... until today.
DayZ has officially been bumped from the top spot on the Steam sales charts this week, courtesy of Shining Rock Studio's recently released and highly popular, Banished.
Blue's News consistently reports on the weekly top 10 sales chart for Steam, and shows off which games are currently topping the chart on Valve's digital distribution platform.
The list is as follows:
1. Banished
2. DayZ
3. Rust
4. Call of Duty: Ghosts
5. Arma III
6. Garry's Mod
7. South Park: The Stick of Truth
8. Space Engineers
9. The Witcher 2: Assassins of Kings Enhanced Edition
10. Thief
Oh yeah, one of my favorites, Space Engineers, is still on the list. That brief sale helped get it on the charts. That's really good to see. You should check out the trailer for that game if you haven't already, it's pretty radical.
Nevertheless, the real story is that DayZ is being trumped by the indie title Banished. Why? How? Well, the indie game slowly picked up steam ever since it started circulating throughout the social media sphere and gamers caught wind of a true next-gen city building simulator. In other words, this is the game that we all wanted Simcity to be.
There is an impeccable amount of depth and customization available to players in Banished. It's not just another AAA strategy-game cash-in that has become the norm from all the big publishers. This game pushes boundaries; this game extends the limits of what we used to think about civil and city management simulators, and it does so looking absolutely gorgeous.
However, words don't properly do Banished justice, so I'll refer you to the promo trailer for the game below, which does a much better job than these feeble words ever could.
As you can see, this game is the next true step in civil and city building. The depth of the gameplay is unfathomably deep and the game has already garnered a strong cult following on its very own sub-reddit.
Funnily enough, the only game that could triumphantly knock DayZ off its pedestal was a game of equally grand ambitions, and a game that also happens to be independently designed and published. It almost makes the triple A publishers look incompetent by comparison, eh?
Still, both DayZ and Rust are still topping the charts like mean mofos. The survival duo broke onto the scene late last year and both games have been extremely successful, with DayZ selling more than a million copies in a few weeks, and Rust making more than $30 million dollars, as noted by Destructoid.
Staff Writer at CinemaBlend.
Your Daily Blend of Entertainment News
Thank you for signing up to CinemaBlend. You will receive a verification email shortly.
There was a problem. Please refresh the page and try again.