Bastion Narrator Returns In Dota 2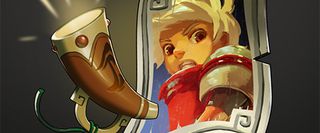 The gravelly voice of Bastion's narrator has invaded another game. Dota 2 players can now download a Bastion Announcer Pack that makes Rucks narrate the action of their matches.
Supergiant Games, the developer of Bastion, revealed the Announcer Pack's release via Twitter. They mentioned that it features hundreds of new lines of voiceover. It's roughly a third of the size of Bastion's script. Rucks has custom lines for each hero currently in the game.
The lines in the Announcer Pack were read by Logan Cunningham, the voice of Rucks in Bastion. They written by Greg Kasavin, the scribe of the game. Rucks should be just as entertaining a narrator in Dota 2 as he was in Bastion, then.
You can download the Bastion Announcer Pack through the Dota 2 Store. It'll cost you $9.99. Some of the proceeds will go to Supergiant themselves.
Supergiant previously stated that they have no plans to make a Bastion sequel. It's possible that this is the last chance you'll ever get to hear Rucks' narrate your gaming experiences, unless you hire Logan Cunningham to provide voiceover for your life.
Staff Writer at CinemaBlend.
Your Daily Blend of Entertainment News
Thank you for signing up to CinemaBlend. You will receive a verification email shortly.
There was a problem. Please refresh the page and try again.