Battle For Freedom: Co-op RTS Vs FPS Demo Now Available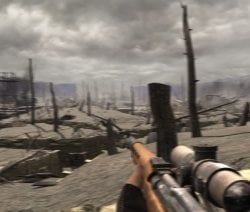 After games like Savage and Battleswarm hit the gaming scene and drastically changed the way we play real-time strategy games and first/third-person shooters, it was only natural that eventually more games in more genres emerged using the same FPS versus RTS gameplay concept. Inovare Studios is working on a war-torn first-person shooter versus RTS game that sees up to seven players cooperatively working together against a boss who spawns all kinds of hordes to stop the "survivors". It was recently announced that Battle for Freedom received a free playable demo and gamers can check it out, today.
Sabin Grigorescu, marketing manager at Inovare Studio commented in the press release about the game, saying…
The demo pits up to seven players in a battle for survival in a single stage, offering three different playable characters to choose from.
Interested in giving this bad boy a spin? Well, don't hesitate to grab a free copy of the demo over at the Official Website.
Staff Writer at CinemaBlend.
Your Daily Blend of Entertainment News
Thank you for signing up to CinemaBlend. You will receive a verification email shortly.
There was a problem. Please refresh the page and try again.