Betrayer Adds Color Following Complaints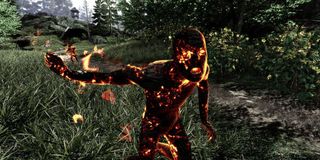 Blackpowder Games has decided to make a major change to the visuals of their 17th century shooter Betrayer. The second major update for the game gives players the option to add color to the normally black-and-white graphics of the game.
Craig Hubbard, co-founder of Blackpowder, stresses that the default visuals for the game are still black-and-white. They just added the color slider to accommodate players who were experiencing discomfort as a result of the original art style.
"We haven't changed the core experience in any way," Hubbard said on Steam. "Nor do these options come at the expense of anything. We've heard from a number of people who bought the game and have experienced eyestrain or motion sickness. We take their satisfaction as seriously as anyone else's."
Hubbard added that reports of sickness have made other players leery of trying the game. The color slider gives them the assurance that, if they find the black-and-white visuals uncomfortable, they'll be able to turn them off.
"We obviously hope that they'll try the default look to see if they can adapt to it as quickly as most players seem to. But if not and they can still get some enjoyment from playing with different visual settings, that's fine with us. It's true that players aren't getting the intended experience if they adjust the visuals, but it's also true that they aren't getting the intended experience if they're playing uncomfortably or resentfully. Or if they aren't playing at all. The bottom line is that we want players to enjoy Betrayer, especially if they've already purchased it. At the same time, we don't want one person's enjoyment to come at the expense of another's, which is why these sliders are purely optional."
In Betrayer, players are investigating the disappearance of a colony on the coast of Virginia. They must explore the wilderness to find clues as to the colonists' whereabouts. They'll also fight undead with muskets, bows and other period weapons. Developer Blackpowder was formed by veterans of No One Lives Forever and F.E.A.R. studio Monolith Productions.
The game arrived on Steam Early Access last month. Players can buy the in-development version of Betrayer to support Blackpowder and also offer feedback on the evolving product.
Update #2 for Betrayer also fixes and tweaks many aspects of the game. Melee stealth kills should now be working properly and players will now move slower while their bow is drawn. Cicadas won't be quite so loud anymore.
A few shots of the new color slider in action are below. You can see footage and screenshots of the default black-and-white visuals here.
Image 1 of 4
Your Daily Blend of Entertainment News
Staff Writer at CinemaBlend.