BioShock Score Available For Free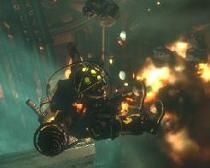 BioShock features many elements that come together and provide cohesive, and enthralling, game experience. One of the most beautiful, and haunting, aspects of the world of Rapture is not the visuals, it's the score. Composed by Garry Shyman, it is one of the most atmospheric and exhilarating pieces we've ever heard in a video game. Hell, it's right up there with the top film scores as well.
If you don't believe me, and you have refused to play BioShock, then why don't you just listen to it yourself? 2K Games is proud to present the score of BioShock, for free, at their Cult of Rapture website. So go there now, and bask in the haunting melodies that surround you as you explore the medical labs, and all of the ruined city of Rapture.
BioShock is the epic new game from legendary producer Ken Levine (System Shock, System Shock 2). Blending elements of FPS, adventure, and a sadly desperate, but frightening, atmosphere the world of Rapture has gained critical acclaim. Gamers around the world have embraced the genetically enhanced shooter, and we can't think of a better way to fill up an MP3 player than with the score.
Your Daily Blend of Entertainment News
Staff Writer at CinemaBlend.