Blizzard's Overwatch Might Need A Name Change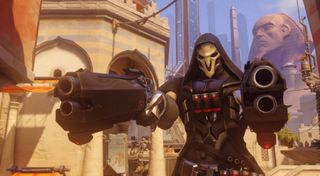 Trademarks and patents are always murky topics that are oftentimes prone to elicit groans and moans from the average reader. It's rare that patent news that involves some sort of dispute ends with smiles and a chorus of joyous laughter... unless you're a lawyer. Well, things have just got hot and heavy for Blizzard after they their trademark application was suspended for the upcoming game Overwatch.
APG Nation has a detailed article up about a trademark dispute that the United States Patent and Trademark Office brought to the attention of Blizzard and Innovis Labs. Blizzard's upcoming game shares the same name as another piece of software with a similar description by Innovis.
A thread over on NeoGaf lays out a few more details surrounding the whole matter, where they explain that Blizzard hasn't made any attempts to clarify the trademark situation and delineate their position as to why they should be allowed to use the trademark of Overwatch.
As explained in the notification to Blizzard about the suspension of the title from the USPTO...
Interestingly enough, Blizzard did have their legal team amend the description of the trademark to add further distinction between their project and the one released by Innovis Labs.
So what does Blizzard's amendment say? It says the following...
The original trademark request and the amendment are still suspended by the USPTO. Right now Innovis Labs still has the right to the Overwatch title since they filed it first and managed to get their product up and out to the public.
You're probably curious exactly what Innovis Labs' app is all about? Well, it's an app designed for real life first-person shooter combat with airsoft rifles. Think of it as a tag or tracker that you would use in a laser-tag match. You can check out an image from the website to see how the app looks on smartphone devices.
The app can track your actions with a player radar, as well as voice chat so you can keep in contact with your teammates. The app even features perks for players who take down a set number of opponents, bridging the gap between the rewards usually dispensed in games like Call of Duty through real-life activities using airsoft guns.
[[ br. ]] Overwatch app from Innovis is actually kind of neat and, sadly, the name fits the app better than it does Blizzard's MOBA-esque team shooter.
With Innovis Labs having registered first, the only thing that might fall in Blizzard's favor is if they pay off Innovis to retract their trademark for the name and pick up for themselves. Alternatively, Blizzard will just have to pick a new name if the USPTO sides in favor of Innovis Labs.
Your Daily Blend of Entertainment News
Staff Writer at CinemaBlend.
Your Daily Blend of Entertainment News
Thank you for signing up to CinemaBlend. You will receive a verification email shortly.
There was a problem. Please refresh the page and try again.