Castlevania Developer Unveils A New Multiplayer Game, Check It Out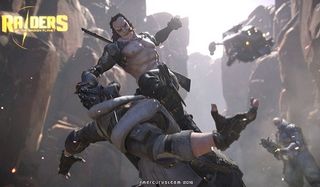 Mercury Steam, the team behind the recent Castlevania: Lords of Shadow games have finally announced their next project. It's called Raiders of the Broken Planet, and it's an online competitive romp.
Sadly, we don't have too much extra information beyond that name. Mercury Steam has released a single image for the game, which can be seen above, as well as a small handful of details. Obviously more information will be provided leading up to the game and, as I keep pointing out, E3 is just around the corner and might serve as the perfect opportunity to blow the doors open on a new game like this.
For starters, anyone interested in getting in on the ground floor of Raiders of the Broken Planet can head to the official website and sign up for the Beta. There's an animated banner on that page that looks like a bunch of wasteland survivors crossed with vampires staring down a baddie with a glowing green hand, a flowing red scarf and, in the background, a massive mechanical tentacle monster that would feel right at home in a steampunk tale from Lovecraft.
Earlier this week, the Mercury Steam Twitter page put out a message that said, quite simply "...Tomorrow a new future begins to dawn."
As promised, the above image was posted on Facebook the following day, featuring the game's name and a few tidbits to chew on. One of the, we assume, heroes is chomping on a cigar and getting ready to punch a dude in the foreground. A hulking baldy hangs out in the background with a massive gun drawn. Further back, a flying craft swoops in.
You are more than welcome to start speculating as to the game's narrative in the comments section below, but we're going to wait for more details from the former Castlevania team before we go too far out on any limbs.
Along with the picture, Mercury Steam has stated that Raiders of the Broken Planet is an "epic multiplayer online asymmetric adventure," and that's about it.
My first thought was that this sounded a heck of a lot like a MOBA, somewhere along the lines of Smite, League of Legends or Paragon. But something about the use of the words "asymmetric adventure" has me doubting that this is just a straight battle arena. Maybe we're looking at more of a cooperative experience? Maybe there's some sort of campaign that goes along with the multiplayer antics? Again, we'll just have to wait for Mercury Steam to feed us more details.
Until then, feel free to share your thoughts with us. Were you hoping for a new Castlevania or are you happy to see the developer move on to an original project? Let us know in the comments below.
Staff Writer for CinemaBlend.
Your Daily Blend of Entertainment News
Thank you for signing up to CinemaBlend. You will receive a verification email shortly.
There was a problem. Please refresh the page and try again.