Champions Online, Star Trek Online Lifetime Subscriptions Announced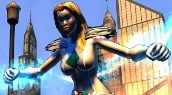 If you think you'll be playing Champions Online and Star Trek Online for years to come, you might want to spring for a lifetime subscription next week. Cryptic will be holding a sale on lifetime subs for each game.
"To celebrate the launch of Champions Online: Free for All and the one year anniversary of Star Trek Online, we'll be discounting the price of Lifetime Subscriptions for both games by 20%!" says Cryptic. "The sale starts January 25 at 6 a.m. Pacific and ends February 4 at 10 a.m. Pacific. This means players will be able to purchase a Lifetime Subscription to Champions Online: Free for All or Star Trek Online for just $239.99!"
Champions Online: Free for All is the new subscription-optional version of Champions. Gamers can play the game for no charge and instead buy premium content as desired through the C-Store. A subscription, however, allows access to this extra content without requiring individual purchases.
Staff Writer at CinemaBlend.
Your Daily Blend of Entertainment News
Thank you for signing up to CinemaBlend. You will receive a verification email shortly.
There was a problem. Please refresh the page and try again.