Chinese Gamers Hiring Female Escorts To Play With Them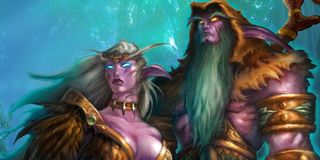 Ever been so desperate for co-op gaming that you were willing to pay someone to either play or teach you how to play a game? Apparently that's a common crisis in China, where female gaming escorts and gamecasters are now in high demand.
Want China Times is reporting that the average games escort can make between $3.20 to $16 an hour, with some of the more successful participants earning as much as $484 to $1,300 a month to play games with, or perhaps teach a game to, paying customers.
In short, an escort is paid to play a co-op game with the customer while a gamecaster participates in face-to-face webcam tutorials. It seems as though the majority of these escorts/casters work online, while certain cafés offer the service on-site.
According to one firm WCT spoke with, an escort's voice is more important than their ability to actually play the games. Customers, it would seem, just want to hear a nice voice on the other end of the mic while they raid dungeons in World of Warcraft or shoot terrorists in Call of Duty. Gaming escort services provide a link between the players and the escorts, taking five to 10 percent of the cut for good measure.
It's pretty easy to see why this would be appealing as a second job, aside from the fact that you'll likely get paired up with a creepy creep-o every now and again. Otherwise, you're being paid to play games and talk to the person on the other end, all anonymously. The market for these types of services are typically the more shy or lonely gamer but, honestly, I could see forking over a few bucks from time to time.
Hear me out! One of the reasons I haven't returned to Destiny in a while is because Bungie still refuses to open up Raids to matchmaking. Using their forums and those hosted on other sites, I've had minimal luck getting a team together for those big shootouts. I'm just about desperate enough to flat-out pay folks to jump in and play the game when it's most convenient for me, rather than trying to haphazardly organize meet-ups on the internet. It's also a bonus knowing that escorts would 1)Have radio-friendly voices, 2) Not have terrible music blasting in the background and 3) Not slip into vulgar, racist or homophobic rants every five minutes.
Services like these aren't exactly new and have actually been around in the States for quite some time, but they're gaining popularity in China as of late. They take heat, also, because not all escort ventures appear to be on the up and up. Some turn out to be scams and others are thinly veiled sex services.
Your Daily Blend of Entertainment News
Staff Writer for CinemaBlend.
Your Daily Blend of Entertainment News
Thank you for signing up to CinemaBlend. You will receive a verification email shortly.
There was a problem. Please refresh the page and try again.