ClayFighter Remake Announced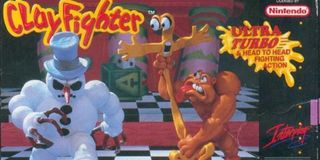 ClayFighter, the bizarre brawler from the SNES era boasting a cast of claymation combatants, is set to return next year courtesy of a remastered edition coming from Interplay and Drip Drop Games.
That's certainly something I didn't expect to be writing anytime soon but, according to a recent announcement from Interplay, it looks like ClayFighter will soon be back in action on modern platforms.
I feel like this semi-proves my precognitive abilities. I was recently working on a list highlighting five fighting series in need of a reboot. Number six on my list, no joke, would have been ClayFighter. My brother and I rented the original game about a dozen times back in the day and even had the opportunity to go a few rounds with the sequel, drawn in by the series' tongue-in-cheek humor, bizarre cast of characters, clever spins on genre tropes and crazy clamation animations.
If you've never seen a ClayFighter game in action, it's a pretty unique spectacle.
Now all of that zaniness is headed our way again, with Interplay and Drip Drop Games working on a game that takes the typical "remaster" tag and pushes it a bit further. According to the announcement, the upcoming game won't just be an HD-ified version of the original game, but rather it will "be packed with the best of all previous ClayFighter titles."
They even provided a handy bulleted list with the breakdown:
-Characters such as Bad Mr. Frosty, Blue Suede Goo, Earthworm Jim, Hoppy, Boogerman, Tiny – and more with over 20 characters total.
-Over 20 familiar environments from the series to duke it out in.
-Brand new gameplay introducing new mechanics to the series, such as double jumping, air dashing, counters and reversals.
-Unique supers and "claytality' moves for each character.
Partner that with remastered audio and the high resolution visuals I alluded to earlier, and you've got the makings of what could evolve into a sweet little treat for old school fighting fans. Interplay is currently touting a PC launch in 2016.
The original ClayFighter was a hit because of what it wasn't. By that I mean, technical fighters had games like Street Fighter to look forward to, while those in the mood for more brutal combat could turn to something like Mortal Kombat. ClayFighter provided a chance to enjoy similar gameplay, but with a smile on your face. Given the fact that modern fighters are as serious as ever, maybe this is the perfect time for a series like ClayFighter to make a triumphant return.
Your Daily Blend of Entertainment News
Staff Writer for CinemaBlend.