Command And Conquer 3: Tiberium Wars New Trailer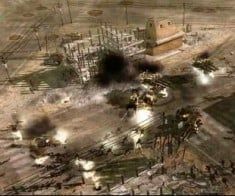 C&C has gathered and retained a following of gamers more loyal than any single cabinet member of the Bush administration. Hard-nosed strategy and warfare is brought to new heights with stunning, slightly-above-par graphics, and tons of non-stop, strategic warfare filling up your screen. And that's just the trailer.
Featuring a new intuitive control scheme, tailor made for console owners, a full campaign mode, an improved multiplayer mode, and all new playing options, C&C3: Tiberium Wars for the Xbox 360 is already being panned as a killer strategy app. You can check out the trailer, courtesy of Gametrailers.com, and see how the gameplay measures up to the growing hype. Command & Conquer 3: Tiberium Wars for the Xbox 360 is scheduled to be released in 2007.
Your Daily Blend of Entertainment News
Staff Writer at CinemaBlend.