Command And Conquer 4 Gets Worldbuilder, Auto-Save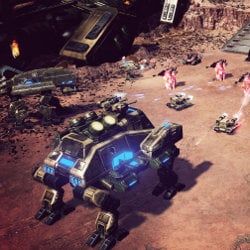 Patch 1.02 for Command and Conquer 4 is now available. In addition to a number of fixes, the patch includes support for the new Worldbuilder tool also released today.
The best fix of the bunch is the new auto-save feature. C&C4 requires you to have a constant Internet connection at all times while playing the game, even if you're doing the single-player campaign. Progress was lost if you were disconnected. No more, though.
Patch 1.02 Notes
Campaign/Skirmish progress is automatically saved if a network disconnect occurs
Various bug fixes in relation to crash/disconnect issues
Skirmish / Custom Match Tunable Options:
Lethality
Time
Victory Points
Goal Point Multiplier
Unit Kill Multiplier
On/Off Map Reveal
On/Off Random Crates
Worldbuilder framework added to game (Map Transfer, in-game support, etc.)
Numerous gameplay fixes related to shell UI and in-game
The 8 MB Worldbuilder tool, available for download here, can be used to create both single-player and multiplayer maps. It's said to be the same tool used by C&C4's developers.
Your Daily Blend of Entertainment News
Staff Writer at CinemaBlend.