Command And Conquer 4 Patch 1.03 Adds Three New Maps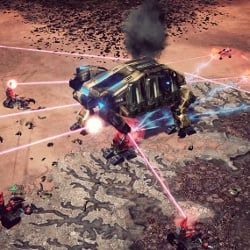 This week EA LA released Patch 1.03 for their PC RTS Command and Conquer 4. In addition to fixing a few minor bugs, it added three more maps for multiplayer.
The new maps are called Capitol Coup, Disputed Depot, and Bridge to Nowhere. There was no mention of what specific bugs were addressed. One big thing to note about 1.03 is that once you install it, you'll be unable to run replays recorded in 1.01 or 1.02.
"This was a design decision made prior to release primarily due to the fact that an extremely small fraction of our MP player base (1%) used our old replay feature, but in general it slowed the overall game down because we consistently added new data on top of old data," explained community manager Apoc. "Because, in order to run an old patch, you need the old data set. We have technical and design ideas to find a better solution for this, unfortunately, it did not happen for C&C 4."
If you experience any issues with the patch, head to this forum thread and tell EA.
Your Daily Blend of Entertainment News
Staff Writer at CinemaBlend.