Command And Conquer 4 Unit Profile: GDI Crawler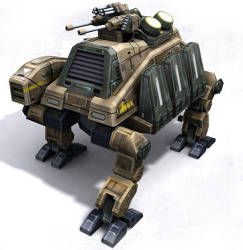 Every week, EA plans to release a profile of a Command And Conquer 4 unit, with new information, pictures, and videos. The first unit previewed is the GDI Crawler.
Instead of building up large stationary bases, C&C4 players construct their army on the go with the Crawler. The massive robot walker is capable of building a number of units and support structures and serve as a repair bay for friendlies as well. They can be upgraded to carry weaponry as well, though their exact specifications depend on what type of Crawler it is (Offense, Defense, Support).
The GDI's sworn enemy, the Brotherhood of Nod, gets their own breed of Crawler as well. That will in all likelihood be the next unit profiled.
Image 1 of 2
Your Daily Blend of Entertainment News
Staff Writer at CinemaBlend.