A Conan The Barbarian Game Is Coming, Get The Details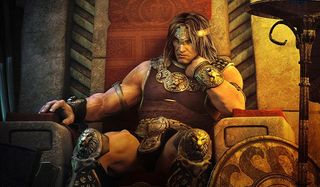 It's like the old saying goes, "You can't keep a good barbarian down." Whether or not anyone has actually ever said that, it turns out to be 100 percent true for Conan. According to a recent statement, Funcom and Conan Properties aim to announce a new game set within the Conan the Barbarian universe early next year.
According to the announcement, a new Conan the Barbarian game will be officially announced in January 2016. In other words, we're likely to hear about the cursed king's news within the next several weeks.
The first statement mentions both PC and console gaming as part of this deal, with Funcom slated to take gamers back to Hyboria in a big way. You may remember Funcom as the company that developed Age of Conan: Hyborian Adventures back in 2008. It has flown under many radars, but there is certainly a loyal group of active players keeping the game going now that it has made the jump to free-to-play. An MMORPG, Age of Conan was particularly praised for putting together a solid, focused single-player experience through the first 20 or so levels of the game.
According to Funcom CEO Rui Casais, the team is looking forward to tackling the property again.
As you might have guessed, there are basically zero details concerning the game at this time, but at least we only have to wait until January to get the scoop. Will it be an open-world adventure RPG like The Witcher or perhaps a first-person epic like Skyrim? Perhaps another MMO like Age of Conan?
Our guess is that we could be looking at a new Conan MMO. Free-to-play games are really taking off on consoles, and there are even a few MMOs that seem to be doing pretty well. This might be the perfect time for a reboot of Age of Conan, built with the free-to-play model in mind. That's probably more likely than a straight campaign-driven game set in the universe.
Then again, MOBAs are also huge right now, and the Conan universe is certainly ripe with locations, characters and lore that would fit that mold perfectly. Or perhaps an arena-style brawler similar to Chivalry: Medieval Warfare? Really, so long as it features a bunch of barbarians going cray-cray on each other with swords and spears, we'll be happy.
We'd be interested to hear what you're hoping to hear about this new Conan game in the comments section below.
Your Daily Blend of Entertainment News
Staff Writer for CinemaBlend.
Your Daily Blend of Entertainment News
Thank you for signing up to CinemaBlend. You will receive a verification email shortly.
There was a problem. Please refresh the page and try again.