Creative Labs External Sound Blaster Omni Card Announced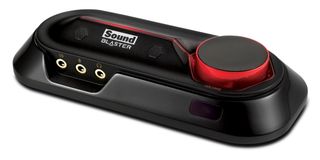 Creative Labs has announced that their Sound Blaster brand is expanding beyond the basic internal limitations of audio excellence. The company is growing and evolving to more exotic forms of PC peripheral experiences, including a new external USB sound card starting with their new line products headlined by the Sound Blaster Omni Surround 5.1.
This is a great time to be a PC gamer and to join the illustrious PC Master Race, as gaming is going through its evolutionary steps once more and many product manufacturers are rolling out a nice series of high-end hardware for gamers, ranging from new monitors, GPUs and controllers, to advanced SSDs and sound cards.
Creative Labs just recently announced that they have the new Tactic3D Fury to round out the headset inclined consumer, but what about someone who wants to pump out the power without a headset? What about someone who doesn't want to enjoy their favorite tunes, sounds and videos from the confines of a headset? What about the people who don't want their ears in the jail of cushioned muffs? Well, that's what the Sound Blaster Omni Surround 5.1 USB external sound card is for. Bring the awesome with you.
Low Long Chye, General Manager of the Audio Video Products Group commented about the new device, saying...
But it's not all about listening experiences... the Omni has the ability to record as well. Using the new Creative CrystalVoice technology, the built-in dual array for microphones allows for clear recording, perfect for podcasters and live-streamers. Heck, the description also mentions YouTube musicians – and given all the fuzzy sounding recordings on YouTube, a feature like this can only help.
The Omni also comes with a full suite of software tools and utilities to help users get the most out of their experience with the hardware. Full sound and advanced control utilities allow users to dictate exactly what they hear and how they hear it.
In addition to this, the card also comes with EAX Studio Software and all the necessary support you would expect from Creative with this state of the art USB external sound card.
You can look for the Sound Blaster Omni Surround 5.1 to launch this October for only $79.99, which isn't that bad a price at all. For more information feel free to pay a visit to the official Creative Labs website.
Your Daily Blend of Entertainment News
Staff Writer at CinemaBlend.