Crytek's Warface Recruits 1 Million Players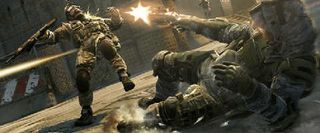 Crytek's PC MMOFPS Warface is enjoying a strong debut in Russia, its first market. Mail.Ru Group, the publisher for the game in that country, announced that over a million players have registered.
Mail.Ru also reports that over 28,000 gamers have played Warface simultaneously. This is apparently a record for Russian gaming. That sounds kind of impressive.
"We are extremely satisfied with the Warface results and we are happy that the hard work done by our team over the title has been so fruitful," said Vladimir Nikolsky, vice president of Mail.Ru's game division (via GI.biz). "We intend to keep up the good work and make Warface not merely a successful game, but also a huge brand and a cybersport discipline, like we did with Cross Fire."
Warface is a near-future, online shooter. It's powered by CryEngine 3, the same technology featured in Crysis 2 and the upcoming Crysis 3. Players can embark on co-op missions or fight each other in PvP missions. It's free to download and play. The game will support itself financially by selling items or boosters for real-world money. Spending money is entirely optional, though, and Crytek intends for players that don't fork over cash to still be competitive.
The primary developer for the game is Crytek's office in Kiev, Ukraine. It makes sense, then, that they would premiere the game in Russia. Crytek managing director Avni Yerli says that their "great confidence" in Mail.Ru and "great reception with Russian gamers" were also factors.
Warface is expected to launch in Western markets sometime this year. I'd think that the summer would be the ideal time to do it; if they launched in the fall, they'd risk competing with high-profile shooters like Medal of Honor: Warfighter or Call of Duty: Black Ops 2. The timing of the launch really depends on when the localized version is ready to go, though.
Staff Writer at CinemaBlend.
Your Daily Blend of Entertainment News
Thank you for signing up to CinemaBlend. You will receive a verification email shortly.
There was a problem. Please refresh the page and try again.