Daggerfall Now Free To Download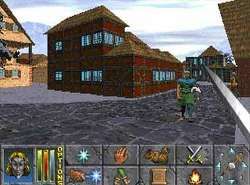 If the impending giveaway of MechWarrior 4 doesn't strike your fancy, how about this: Bethesda has made Elder Scrolls II: Daggerfall free to download through their website.
Much like Elder Scrolls IV: Oblivion or Elder Scrolls III: Morrowind, Daggerfall is a single-player RPG with a huge world to explore. The game map is 62,394 square miles, making it several thousand times larger than the worlds of Oblivion and Morrowind. The catch is that the graphics aren't nearly as flashy and most of the terrain is randomly-generated. The huge amount of NPC's means there's a lot less personality to go around, too.
Anyway, it's free so that means you're not allowed to complain if you don't like it. Grab it here. The file is a mere 148 MB. The giveaway is apparently a celebration of The Elder Scrolls series' 15th anniversary.
Staff Writer at CinemaBlend.
Your Daily Blend of Entertainment News
Thank you for signing up to CinemaBlend. You will receive a verification email shortly.
There was a problem. Please refresh the page and try again.