Dawn Of War II: Last Stand DLC Released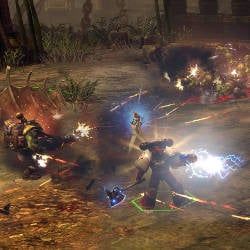 Warhammer 40,000: Dawn of War II received new, free content today. Patch 1.8 adds a a new cooperative mode to the real-time strategy game.
In "Last Stand" matches, you and two other players must fend off waves of attackers for as long as you can. You'll eventually die but you earn experience points for killing enemies and accomplishing other objectives which in turn earns you new weapons and items for your character. This new gear allows you to prolong your inevitable death a bit longer.
In addition to Last Stand mode, today's update also adds two multiplayer maps, bug fixes, and some rebalancing of units/abilities. Check out the official Dawn of War II community page for full details.
Staff Writer at CinemaBlend.
Your Daily Blend of Entertainment News
Thank you for signing up to CinemaBlend. You will receive a verification email shortly.
There was a problem. Please refresh the page and try again.