Dead Trigger, Zombie FPS Announced For Tegra 3 Powered Phones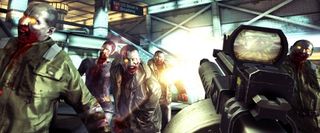 Madfinger Games, best known for the semi-popular mobile game series, Shadowgun, has announced that they are working on a new FPS for mobile devices called Dead Trigger. The game looks amazing to be on phones and it looks even better when running on Nvidia's Tegra 3 powered devices.
Marek Rabas, CEO of MADFINGER Games commented in the press release about the recent announcement for the new shooter, saying...
To be honest, with the new video, it would have been impossible for me to tell it was being played on phones based on the smooth movement and gameplay transitioning. It wasn't jerky or blobby like many other phone games and it's a real milestone achievement to maintain that kind of fluidity for an FPS running on a mobile device.
This is also possible thanks to the Unity Engine from Unity Technologies. They've quickly become one of my favorite companies for offering up a high-end engine thanks to the indie-friendly cost efficiency, the scalable optimization, as well as the integrated affinity to other plug-ins such as xaitControl and middleware that helps speed up the process of game development.
You can check out a comparison video of Dead Trigger running on a standard Android phone as well as the game running on a Tegra 3 powered phone to get an idea of what both the Unity Engine and the Nvidia Tegra 3 processors have to offer for enhancing the gameplay and visual effects of the game.
Dead Trigger is set to release soon for iOS mobile devices and Android phones. Need more info? Feel free to hit up the Official Madfinger Games Website.
Staff Writer at CinemaBlend.
Your Daily Blend of Entertainment News
Thank you for signing up to CinemaBlend. You will receive a verification email shortly.
There was a problem. Please refresh the page and try again.