Diablo 3's Mob Damage Increased To Make Armor, Resistance Less Useful?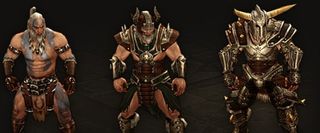 Still have those tin-foil hats? Better bring e'm out the closet (I keep a stack under the desk). There have been regular reports that some of the monsters have been "stealth buffed" to reduce a player's resistance, thus resulting in many believing it's either a bug or an attempt to get people to buy new equipment off the auction house.
A couple of players tried conducting tests noting the variance in armor damage reduction and resistance versus not wearing any armor at all. The most recent breakdown was posted on Reddit where the user inconclusively leaves the data there to indicate the possibility of a "stealth buff" to Diablo III's monsters or a potential bug plaguing the system. You can check out his results here:
After seeing complaints regarding a "Stealth Buff" to damage, I decided to do some testing.
Method Take 10 hits of damage in full gear and 1 hit of damage naked. This was repeated for the following effects. Tested in Breeched Keep level 2.
Soul Lasher Attack
Frozen
Molten
Plague
Desecrator
Arcane Sentry
Wall of Fire
Armor and Resistances In Gear
Armor: 7105 (69.02% reduction against mLvl63)
All Resist: 802 (71.85% reduction against mLvl63)
No reduction against Melee/Ranged Attacks
Armor and Resistances Naked
Armor: 292 (8.48% reduction against mLvl63)
All Resist: 7 (2.17% reduction against mLvl63)
No reduction against Melee/Ranged Attacks
Soul Lasher Attack
Naked: 68092
Gear: 6600
Reduction: 90%
Frozen
Naked: 62443
Gear: 6000
Reduction: 90%
Molten
Naked: 5986
Gear: 2100
Reduction: 65%
Plague
Naked: 5702
Gear: 1700
Reduction: 70%
Desecrator
Naked: 12643
Gear: 4200
Reduction: 67%
Arcane Sentry
Naked: 68035
Gear: 6600
Reduction: 90%
Wall of Fire
Naked: 13362
Gear: 13359
Reduction: 0%
Analysis
Additional damage reduction from armor alone is 66.4%
Additional damage reduction from resistances alone is 71.22%
Additional damage reduction from both armor and resistances is 90.32%
Soul Lasher, Frozen, and Arcane Sentry Damage was in line with expected damage reduction.
Molten, Desecrator, and Plague Damage only appears to be affected by one source of damage reduction. Experimental values are closer to the expected reduction of only armor, however the expected reduction of only resistances is within the experimental error.
Wall of Fire does not appear to be affected by any sort of damage reduction.
Quite naturally, this led players to perform their own analysis of the situation as well, such as this user here who goes a bit more in depth with the tick-per-damage and also concludes that something appears to be off. As shown below:
According to the community manager Bashiok and quality assurance manager, Vasadan -- a chap who actually play-tests these things to ensure the game is balanced -- they state that nothing is wrong and all is as it should be. Vasadan goes a step further to ensure gamers that the game is properly balanced regarding mob damage, stating in a recent thread...
This could be true. Remember, Bashiok and lead designer Wyatt Cheng also stated that what's currently in the RMAH doesn't affect loot drops, which is true. But Bashiok let slip that loot and gear already have pre-determined drop rates in relation to the presence of the RMAH. This situation involving mob damage could be similar to the situation involving the loot drops and the auction house(s).
Stealth-patches are also a strong possibility given that the item-duping on the America and European servers were both stealthily hotfixed over a weekend patch.
Some gamers have taken it a step further in theorizing that the damage reduction nerf coupled with the high repair costs is an extra measure to keep players on the auction house looking for better gear. This was slightly hinted at when a player asked Bashiok about the possibility of lessening in-game repair costs (which at the moment makes it more convenient to buy new gear than to keep repairing it) with Bashiok replying, saying...
The general consensus is that this may be a bug. The moderators and QA have neither acknowledged nor denied that item damage reduction could be bugged or that the mobs could be bugged. Bashiok did comment that they were looking into it.
On the bright side, at least this news is a lot less damaging than say, some guy losing money to the RMAH and Blizzard saying they can't help him at all, or some other guy who can't get his $200 back while it's trapped in limbo, or some other guy who lost $149 to a grey area pocket of the RMAH.
In terms of the Diablo III Hate Meter™, I'd say this bit of news is quite tame and ranks rather low, probably fitting in somewhere around the "Diablo III has bugs but this isn't that bad unless this bug forces you to buy better items from the Auction House" scale.
Staff Writer at CinemaBlend.
Your Daily Blend of Entertainment News
Thank you for signing up to CinemaBlend. You will receive a verification email shortly.
There was a problem. Please refresh the page and try again.