Diablo 3 Patch 1.0.2b Released, Fixes Barbarian Crashes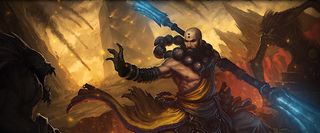 Blizzard has pushed out another small patch for Diablo 3. Patch 1.0.2b is now available for download in the Americas. It should hit Europe and Asia soon as well.
This update will be welcomed with open arms by Barbarian players. Before the patch, certain combinations of skills kept triggering each other's critical strikes over and over. It sounds awesome, but this actually caused crashes. The patch hopefully prevents these issues for good.
The patch also makes another convenient tweak to the auction house. You can now sell damaged items to other players. What's more, they'll be repaired automatically when purchased. If you're a very active auctioneer, this could save you a good amount of gold over time.
Note that the delay between the American and European/Asian launch of this patch will affect Global Play. If your home region is the Americas, you won't be able to play in the Europe or Asia regions until the patch is implemented there. Also, you won't be able to install the patch onto a European or Asian client even if you attempt to play in the Americas.
The full patch notes for 1.02b are below. Blizzard made no mention of maintenance so you should be able to jump in and start playing as soon as you finish downloading it.
General
When logging into Diablo III, the "Cancel" button which appears in the login checkbox will now be grayed out for 30 seconds after a Battle.net account name and password are entered. This is to reduce server load during the login process.
Auction House
Damaged items can now be sold on the auction house •Once sold, damaged items will be repaired automatically when moved from the purchasing player's Completed tab to their stash. Please note that unsold damage items will not be automatically repaired when returned to the seller's stash
Description messages for several auction house-related errors have been added
Mac
Several Mac performance improvements have been made
Bug Fixes
It is no longer possible to skip entire Acts in a multiplayer game
Battle Rage (Skill Rune - Bloodshed)
Cleave (Skill Rune - Rupture and Skill Rune - Scattering Blast)
Hammer of the Ancients (Skill Rune - Thunder Strike)
Wrath of the Berserker (Skill Rune - Slaughter)
Monsters who are charmed by the Enchantress's skill "Mass Confusion" can no longer kill event NPCs
Staff Writer at CinemaBlend.
Your Daily Blend of Entertainment News
Thank you for signing up to CinemaBlend. You will receive a verification email shortly.
There was a problem. Please refresh the page and try again.