Diablo III Beta Details Revealed Through New FAQ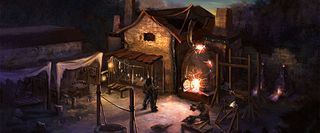 If you've got burning questions about Diablo III's upcoming beta, Blizzard has answers. They've released a new FAQ through the official website about the action RPG's testing.
The beta test will be open to both PC and Mac users. You simply need a Battle.net account with any Blizzard game attached to it. To opt into the beta, log into your Battle.net account and go to the Games and Codes section of the Account Management page. Select the Beta Profile settings option and run the System Check application to submit your computer's specifications to Blizzard.
Testers will be chosen based on system specifications. You don't necessarily need an amazing system, though. Blizzard is looking to test the game on a variety of system types.
Other factors, including luck, will also be involved in the selection process. While many spots will be filled by Battle.net users opting into testing, additional beta keys will be given out through promotions on various sites. The exact number of testers Blizzard will invite is unclear. They'll invite more as needed, though, so don't worry if you're not selected right away.
During the beta test, players will get to experience all five character classes. They'll head to New Tristram and battle the evils infesting the cathedral there. Testers will experience the start of the game up until the "Skeleton King" encounter. PvP arenas will not be included in testing. However, Blizzard will allow players to try out the auction house sometime after the beta goes live.
The Diablo III beta, like the full version of game, is currently undated.
Staff Writer at CinemaBlend.
Your Daily Blend of Entertainment News
Thank you for signing up to CinemaBlend. You will receive a verification email shortly.
There was a problem. Please refresh the page and try again.