Diablo III: Book Of Cain Coming In December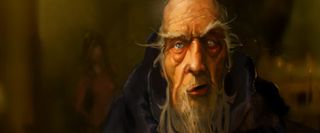 Diablo III sadly won't be released in 2011. However, before the end of the year, Blizzard will be releasing a lore book entitled Diablo III: Book of Cain. Perhaps it will be enough to tide you over through the long winter.
Book of Cain focuses on Deckard Cain, the scholar who plays a pivotal role in the Diablo universe. He acted as a sort of guide to the player in the previous two games. He'll no doubt have a presence in the third installment as well, along with his daughter.
"Designed to look like an in-world artifact from the Diablo universe, Book of Cain conveys the games' rich lore through an exciting first-person account," says Blizzard. The story begins as Cain leaves his journal to his adopted daughter, Leah, passing along the tale of Sanctuary's creation and the eternal war that rages between the High Heavens and the Burning Hells. Book of Cain chronicles the rise of the Zakarum, the traditions of the Horadrim, the genesis and geography of Sanctuary, and the key moments in the world's history-such as the destruction of Tristram-that set the stage for the events of Blizzard's upcoming action-RPG Diablo III. Containing dozens of sketches, Cain's footnotes, and a hand-drawn map of Sanctuary, this comprehensive tome promises to give readers a deeper understanding of the mysterious Diablo universe."
The English version of Book of Cain will arrive on December 13th. Other localized versions will be released on February 7th. It's already available for pre-order at Amazon and Barnees & Noble.
"We're super geeked up about Book of Cain," said Blizzard's Chris Metzen. "What's really cool is that after fifteen years of developing the Diablo franchise, we can finally share the definitive look at this world and its rich history with our players."
The book's cover art is below.
Image 1 of 1
Staff Writer at CinemaBlend.
Your Daily Blend of Entertainment News
Thank you for signing up to CinemaBlend. You will receive a verification email shortly.
There was a problem. Please refresh the page and try again.