A New Digimon Game Makes Its Way To Mobile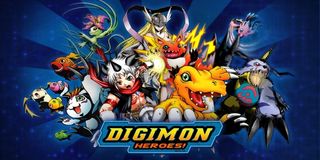 Bandai Namco Entertainment has announced that a new Digimon gamed called Digimon Heroes has launched for iOS and Android devices for free. The match-3 card battle game puts players in the role of battling other Digimon to become the best in the world.
The press release states that the game features more than 1,000 classic and Legendary digital monsters and that the card collection spans the likes of each era of the popular franchise. According to the press release, the game also features brand new monsters made specifically for the card game.
There are various match-ups that players will encounter, as well as PvP against friends, daily missions to partake in to increase your rank, long-term missions for players who want something meaty to sink their teeth into and daily and bi-weekly special events.
There's a quick 30 second video clip of the match-3 card game in action so you can see exactly what you're getting into and how the game plays on Android and iOS devices.
Since it's free-to-play, there are in-app purchases available detailing starter packs and continue packs, as well as something called "HDD". They explain that it's possible to enhance the Digimon on the party by digifusing them and digivolving them into something bigger and better to take on other characters, and that it's possible to use in-app features as a way to enhance the gameplay. However, they also note that it's possible to deactivate in-app purchases within a menu.
It's not often that a mobile game advertises that it's possible to disable microtransactions, but given some of the previous cases where kids have ran up their parent's credit cards on mobile games, it's nice to see Bandai Namco promoting fiscal responsibility for their user base.
As for the game itself... how are people reacting to it? Well, it recently launched on mobile app stores, but it's already receiving a lot of feedback. Gamers seem to enjoy Digimon Heroes because it offers the basic card battling elements – where some status and magic attacks work better against other characters and some status and magic moves work better at defending – but it contains all the favorite small and large Digimon from the anime series.
A couple of people noted that the game doesn't necessarily do anything new, but it does bring to the table a fun experience for people looking to play as their favorite digital monsters. One user commented that the artwork is great, and even though it's a typical card battling game the art definitely helps make up for the generic mechanics.
Bandai Namco's Digimon Heroes is available right now for Android and Apple devices. As mentioned at the top of the article the game is free-to-play and you can grab it right now by visiting the iTunes app store or by picking up a copy from the Google Play store.
Your Daily Blend of Entertainment News
Staff Writer at CinemaBlend.