Doom 3 Meets Thief In The Dark Mod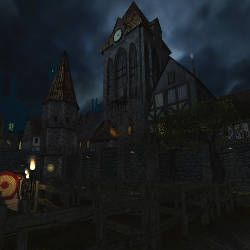 Today the Dark Mod team released the beta of their Doom 3 mod of the same name. The Dark Mod is a stealthy, steampunk game in the mold of Looking Glass Studios' Thief series.
The beta can be downloaded here. This particular version contains four missions, including a training level to get you accustomed to the mechanics. You'll need an installed and patched copy of Doom 3 to be able to play the mod.
The team that created The Dark Mod also developed a toolset, Dark Radiant, to allow players to easily create additional missions. The missions that the TDM team developed do not infringe on the Thief copyrights (character names, the setting etc.) so they would prefer you don't, either. "We will not host or officially support any fan efforts that use intellectual property belonging to Eidos," says the FAQ.
Your Daily Blend of Entertainment News
Staff Writer at CinemaBlend.