Download Battlefield 1942 For Free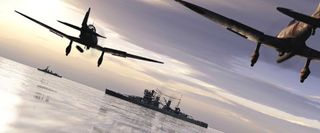 Battlefield 1942 turned 10 years old this fall. To celebrate this milestone, EA is letting players download the multiplayer shooter for free through their digital games platform Origin.
BF 1942 was the first game in the Battlefield series. It allows players to take on the role of the Axis Powers or Allies in World War II. The game's maps featured the Pacific, European, North African, and Eastern Fronts. Players choose from five different character classes and can pilot air, land or naval vehicles. They can also man turrets such as mounted machine guns or anti-aircraft guns.
The game pales in comparison to the later BF titles in many ways. For starters, there was no character progression or loadout customization back then. Still, the basic gameplay of the series has remained the same throughout all these years. In one respect, BF 1942 actually outperforms Battlefield 3: the single-player. The single-player matches for BF 1942 were multiplayer matches with bots, which I still find a lot more entertaining than the half-baked campaigns from recent BF games. These bot matches were a decent tutorial for multiplayer, too.
Origin users will have access to the full version of 1942. However, the official FAQ mentions a few catches. It doesn't include two expansions, Road to Rome and Secret Weapons of World War II. You can't play online against people who own the disc-based version of the game. Furthermore, mods might not work with this F2P version. These caveats may result in some complaints but still, it's a free game.
BF 1942's free release is also meant to commemorate Battlefield 3 Premium hitting two million members. Premium gives BF3 players access to all five of the game's expansions for one discounted fee, as well as other exclusive bonuses.
To download Battlefield 1942, head here.
Staff Writer at CinemaBlend.
Your Daily Blend of Entertainment News
Thank you for signing up to CinemaBlend. You will receive a verification email shortly.
There was a problem. Please refresh the page and try again.