Dungeon Gate, Open-Ended RPG Adventure Game Announced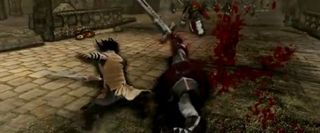 Wild Games Studio recently announced that they're developing a new open-world, open-ended, RPG-adventure game called Dungeon Gate. An extremely brief teaser trailer was also released featuring nothing noteworthy. Although, I guess that's what teaser trailers are for.
Well, that's not entirely true about the "noteworthy" part, though…there's a decapitation that's executed quite well. It's hard to tell if it's in-engine or pre-rendered from other resources. You can check out the all too brief announcement trailer for the game below.
So what do we know about the game? Well, very little except that players will be in charge of a character named Dysan, who can absorb the DNA of creatures and people around him, allowing him to mimic their skills and abilities. Players will basically fight through the fictional world of Barrillion to free it from a tyrant Overlord.
A list of some of the game's features can be viewed below. Dungeon Gate is expected to go live sometime during the early first quarter of 2012, which is shaping up to be a very busy time of the year with very big releases, including Mass Effect 3, Syndicate and The Darkness II.
You can keep up to date on any news or information surfacing for Dungeon Gate by heading on over to the Official Wild Games Studio Website. More information on the game will be unveiled at the Montreal International Game Summit between November 1st and November 2nd.
Staff Writer at CinemaBlend.
Your Daily Blend of Entertainment News
Thank you for signing up to CinemaBlend. You will receive a verification email shortly.
There was a problem. Please refresh the page and try again.