Dynasty Warriors 6: Empires Heading To North America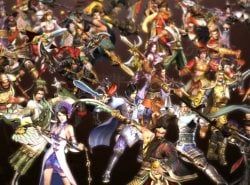 Koei recently announced that Dynasty Warriors 6: Empires was coming to PAL territories, but now they have announced, today, that the game will also be heading to North American retailers, too.
According to the press release, "As a lord, gamers must think strategically. By deciding when to attack, when to resist invasion, or when to initiate policies, a lord can expand their power and influence." It also states that "An easy-to-learn "card collecting" system lets players enact policies that will increase their empire's strength, improve the abilities of their forces, and more. The cards that a player receives will depend on the attributes of the officers and their army."
What's more is that the game will still feature 1 or 2 player offline co-op and competitive modes and an all new create-a-warrior mode that lets players customize the skin tone, gender, build, appearance, weapon and other details regarding their custom character. It's kind of a cool sounding feature for the next-generation of Dynasty Warriors games.
Battles will also require more strategy, as more entry and ambush points have been added for players to dictate the flow of combat. Players utilizing military skill in strategizing proper attack formations and reinforcements will see all new challenges presented to them in Dynasty Warriors 6. How well this will all come together for a more unique and original experience in comparison to previous games in the series is something that is yet to be seen…or rather, something that will only be discovered with a review.
The game is due out on June 23rd for the Xbox 360 and PlayStation 3. You can learn more by visiting the Official Koei Website. For more gaming news, info and updates, be sure to stay tuned in with Blend Games.
Staff Writer at CinemaBlend.
Your Daily Blend of Entertainment News
Thank you for signing up to CinemaBlend. You will receive a verification email shortly.
There was a problem. Please refresh the page and try again.