Dynasty Warriors Online Update Adds New Weapons, Maps, Costumes, Bug Fixes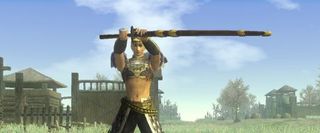 Aeria Games sent out word that the free-to-play online hack-and-slash multiplayer-RPG version of Dynasty Warriors has received a major update including three brand new weapons, new maps, a few bug fixes and the ability to craft some new costumes for both male and female characters.
If you got bored hacking and slashing in Dynasty Warriors games playing by yourself then you might enjoy playing the game with other players either cooperatively or competitively. That's how things work in Dynasty Warriors Online, the free-to-play version of Koei's long-running, popular franchise based on the wuxia novel.
The new update by Aeria Games signals some massive improvements to gameplay, including new crafting recipes for a number of different items, the ability to log-in without any annoying errors, seven new customizable gear items, and brand new Lieutenants to earn and have as a part of your elite fighting force.
Dynasty Warriors Online isn't quite as progressive or story driven as other MMORPGs out there, but if you're looking for a fun, intense, skill-based PvP type MMO, then DWO wouldn't be a bad way to go, especially if you don't mind each match consisting of wiping out several thousand troops in just a few minutes.
You can learn more by visiting the Official Dynasty Warriors Online Website.
Staff Writer at CinemaBlend.
Your Daily Blend of Entertainment News
Thank you for signing up to CinemaBlend. You will receive a verification email shortly.
There was a problem. Please refresh the page and try again.