Dynasty Warriors: StrikeForce New Content Now Available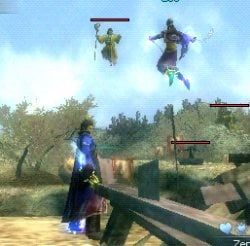 Koei recently announced that some new downloadable content is now available for the PSP exclusive, Dynasty Warriors: StrikeForce. What does the new content contain and why is it worth your time? Well, keep reading to find out.
According to the press release, "Each month a new Quest Pack will be available. This month's Quest Pack includes all of the previously released add-on content plus five new missions"
Yeah that's good news…for everyone who has yet to get the new content it's neat that they can now experience it in the new content pack. It feels a lot less like electronic wallet-raping, as opposed to a certain Xbox Live Marketplace which seems to have gamers spending points on just about everything.
The new maps that will be available in the content pack include the following:
• Yellow Turban Fortress X - Return to the Yellow Turbans' fortress to finish the fight! (Difficulty: 4)
• Submerged Castle - Face the mighty Lu Bu and gain rare materials! (Difficulty: 4)
• Battle of Bo Wan Po X - Return to Bo Wan Po to finish the fight! (Difficulty: 5)
• Chi Bi vs Zhou Yu - Return to Chi Bi to finish the fight against Zhou Yu! (Difficulty: 7)
You can learn more about the newly released content pack for the PSP, by visiting the Official Dynasty Warriors: StrikeForce Website. For more gaming news, info and updates, be sure to stay tuned in with Blend Games.
Staff Writer at CinemaBlend.
Your Daily Blend of Entertainment News
Thank you for signing up to CinemaBlend. You will receive a verification email shortly.
There was a problem. Please refresh the page and try again.