E3 2007: EA Brings On Their Lengthy Video Game Line-Up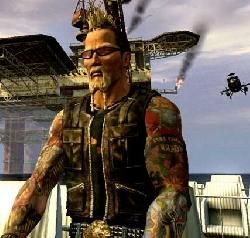 We don't cover a lot fo Electronic Arts titles here on CB Games, but we figured you (the reader) would probably like to be informed on their rather prestigious line-up of video games being showcased at this year's E3 business and gaming-related press summit. And you can look over the long list of games right here.
I'm sure a lot of you are excited about the upcoming press conferences and the meetings that will hopefully result in more deals for better games. So to give you a taste of what's yet to come, you can check out a list of the EA games being featured at E3, along with a brief description. We'll later bring you trailers and screenshots of various games from the list. Also, if you're the kind of person who isn't keen on scouring through lots of information (or just browsing through a site) you can easily (and conveniently) use our CB Games E3 Master-Guide And Coverage hub to navigate all the material we've racked up throughout this event.
EA's E3 2007 Video Game Line-Up:
Army of Two
Never go into battle alone! Or, without your closer male partner...In a combative, "I've got your back, you've got mine" sort of way. Army of Two is a hard-boiled coop shooter for the Xbox 360 and PS3. Let's just hope it plays as good as it looks.
Boogie
Shake it. Sing it. Create it. Another not-such-a-real-game for the Nintendo Wii. I'm sure Dance Dance fans will love this game and it will definitely help move some Wii units off store shelves (not as if they need help), but maybe some slightly better graphics will help put this game over as more than just a DDR clone. Boogie is shipping for the Wii on August 31, 2007 in Europe.
Bejeweled (mobile)
Be dazzled by the latest Bejeweled! This is casual gaming at its best. A simple switch of the jewels and you could be winning or losing with this gem.
EA Playground
Rain or shine, the fun doesn't have to stop! EA Playground captures the exuberance and nostalgia of your neighborhood playground, turning your gaming space into an arena of interactive fun with immersive activities designed for kids, and the kid inside all of us. Kids can bring the excitement of the playground home, and parents or even grandparents can re-experience their childhood thrills. EA Playground is your playground favorites smartly delivered on the Wii and Nintendo DS. EA Playground is scheduled to ship this year.
Harry Potter and the Order of the Phoenix (mobile)
Another movie-to-game spinoff that is hopefully better on mobile phones than it was on the home consoles. Mobile consumers will not only be able to download the game, but will also have access to personalized content based on the fifth book and film, including ringtones, wallpapers and ringback tones. Harry's mobile adventure will be available from major wireless carriers in the U.S. and Europe during the summer.
Madden NFL 08 (Wii)
After the abysmal displays of "next-gen" nearly two-years running, it's time for Madden to sit down, strap up, and reevaluate what it means to be the number one interactive football franchise of all time. Sadly, there's going to be a lot of mini-game affairs attached this game (like any other Wii title), as it features an all-new Party Mode where players can play trivia or chose from 22 different mini-games. Wii owners can also bring the game online and play head to head with friends.
Madden NFL 08 (mobile)
Madden NFL 08 features over 75 plays from the real Madden playbook, team-specific offensive and defensive formations, and with Al Michaels and John Madden calling the action Madden NFL 08 is more entertaining than ever before!
Medal of Honor Airborne This franchise has a lot to lose and a lot to gain. Hopefully it doesn't fall into the trap of doing the latter. With every other FPS game out there doing just about everything every other FPS game out there is doing, it makes MoH: Airborne look like a game that has a heck of a lot to prove. Medal of Honor Airborne will be available August 24, 2007 in Europe for the Xbox 360 system and PC and in November for the PlayStation 3 system.
MySims
Now here's a game that's easy to describe and doesn't include the words "mini-game" or "party time fun". MySims is a direct-to-Wii Sims game that offers players Lego-styled building blocks to design their own town, characters and lifestyle. Open-ended gameplay coupled with endless replayability could make MySims one of the better titles available on the Nintendo Wii.
NBA LIVE 08 (Wii)
NBA LIVE 08 is fun for all on the Wii with a flick of the wrist with 2 ways to play. Jump in on the action with EA SPORTS Family Play that gives every user the opportunity to enjoy success. You control your team's shooting, passing, and steals on defense with the Wii remote, and leave the rest up to the AI. If you're already a pro, use both the Wii remote and nunchuck for more complex controls.
NBA LIVE 08 (mobile) Featuring real players, real teams and real NBA intensity, it's easy to pick up and play one game or a thrilling season. Players control offense and defense and make highlight reel moves – thundering slam dunks, driving lay-ups and in-your-face blocks. Color commentary by Marv Albert puts players courtside for fun, exciting NBA action – anytime!
Need for Speed ProStreet
Following in the footsteps of classics like Street Rod, or new-age street-races like Juiced, Need For Speed ProStreet is all about the tuner car, car-lover's ambition. It's just about racing, it's about putting life into the car you race. While it may seem like a rip-off of Forza, this could very well be the Forza Motorsport of street racing. And that's not a bad thing at all. The Need for Speed ProStreet will be available on store shelves October 31st, 2007.
Rock Band
Offering four games in one - Rock Band challenges rockers to master the lead/bass guitar, drums, vocals or play in a cooperative band experience. Built on unprecedented deals with top record labels and music publishers, the music featured in Rock Band spans all genres of rock and includes many master recordings from legendary, previously untouchable artists. Rock Band is developed by Harmonix, published by MTV Games, distributed by EA Partners and will be available for the Xbox 360 and PlayStation 3 system.
SKATE
"SKATE is the closest thing to skateboarding without actually putting your feet on a board" So says the press release. While the dual analog sticks may allow players to perform tricks in a different way, it still has a long way to go before it catches up to the standards set by Tony Hawk's series of games. Still, the gigantic environment will provide gamers with tons of different skating choices and replay for mastering tricks. And according to the press release, Players will meet and skate with legends like Danny Way and Mark Gonzales as well as up-and-coming pros including Chris Cole and P.J. Ladd. Along the way, players can capture video footage of their skate sessions at any time to share or brag with their friends across the country via the game's innovative skate reel feature. Without footage, it's fiction. SKATE is ships this September (competing with Halo 3) for the Xbox 360 and PlayStation 3.
The Sims 2 Castaway
EA is excited to announce The Sims 2 Castaway, a brand new game from The Sims Label that challenges your Sims to survive and prosper on an uncharted tropical island. Available on the Wii, Nintendo DS, the PlayStation 2 computer entertainment system and the PSP (PlayStation Portable) system this Fall, the journey in The Sims 2 Castaway begins when your Sims are washed ashore and must overcome the forces of nature, craft tools for survival, and explore their surroundings to unravel the island's mysteries. They'll learn to build a life from scratch in an undiscovered paradise while unearthing clues that will lead them back to civilization. By discovering the many useful treasures and ancient mysteries hidden deep within a diverse jungle, your Sims will discover all the things a tropical island has to offer, including plants, fruits, wildlife and more! From tattered clothing to sunburned skin, your Sims will change as they take on the many challenges of tropical island life and learn to survive in style. Other titles from The Sims Label at E3 include MySims (Wii, Nintendo DS) and SimCity Societies (PC).
The Simpsons Game
THE SIMPSONS GAME features a hilarious, sprawling, and mind-busting storyline crafted by the TV show's Emmy Award-winning writers. The action-comedy will also feature the full cast of voice actors from the TV show who will reprise their roles for the game. In THE SIMPSONS GAME, Homer, Marge, Bart, and Lisa use exciting, all-new powers to save the world from rising chaos. To help the Simpsons, gamers at home must journey through all of Springfield (as well as vast worlds beyond!), vanquish an amazing array of villains, and fight their way through parodies of popular games.
The Simpsons: Minutes to Meltdown (mobile)
An entirely new version of The Simpsons will also be available this summer for play on mobile phones. Following a unique story line for mobile, players will have yet another experience as Homer Simpson, racing against the clock to prevent a major meltdown at the nuclear power plant.
Tetris (mobile)
Yet another Tetris game. This time, it's for mobile phones. That doesn't stop it from still being one of the oldest made games of all time. Nor does it stop it from being a game that has seen more spinoffs and clones than a British singing competition. Regardless, people love rehashed material with a couple of new features and that's exactly what this is.
EA titles showcased at Barker Hangar
Burnout Paradise
Reborn for the next generation of consoles, Burnout Paradise takes its unique mix of Speed, Aggression, Crashing and Destruction into the open world. With groundbreaking technology and gameplay innovations such as Free Burning and Mugshots, it will smash racing conventions and turn the Driving Category on its head. Next generation technology has enabled an unprecedented level of crash deformation allowing you to experience the most explosive pile-ups in the series' history. Burnout Paradise is due out this winter.
Crysis
Get ready to break out your Nanosuits. From Crytek, the award-winning developers of Far Cry, comes one of the year's most anticipated PC games and first person shooters Crysis. Powered by Crytek's CryENGINE 2, Crysis is a technical achievement featuring stunning visuals, cunning gameplay and an epic storyline. A mysterious artifact found on an island in the South China Sea leads to a power struggle between the US and North Korea. An elite squad of Special Forces operatives is sent on what turns out to be more than just a standard search and rescue mission when it is discovered the artifact is a Trojan Horse for a massive alien invasion. Both global super powers will have to unite to battle this mysterious, menacing threat amidst a dynamic, ever-changing environment including frightening zero gravity conditions. To defeat the aliens, players will have to change their tactics on the fly, fully utilizing a revolutionary Nanosuit that enhances their ability to use strength, speed, armor or cloak to their advantage, and an arsenal of highly customizable weaponry. The planet's fate will be determined by your ability to adapt to survive. Crysis is slated to ship for the PC in 2007.
Hellgate: London
It's 2038 and London has been decimated by hordes of horrifying demons. You are the only thing standing between them and the extinction of mankind. Developed by Flagship Studios, the core team behind the global blockbuster Diablo series, comes Hellgate: London, the next benchmark for the action RPG genre. Combining classic hack-and-slash gameplay with first-person shooter and MMO elements, Hellgate provides gamers with a deep, story-driven experience that is infinitely replayable due to dynamic, randomly generated levels and instances. With six distinct character classes that suit different play styles, highly customizable appearances, massive quantities of randomly generated equipment and a robust skill system, players will truly be able to create their own unique hero they can use to fight alone or online. And for those who want to continue the extermination of the demon threat, Flagship will offer ongoing content to subscribers including everything from new character classes, demon types, quests and more.
Mercenaries 2: World in Flames
When a power-hungry tyrant messes with Venezuela's oil supply he sparks an invasion that turns the country into a warzone. But for you, international crisis is all upside: You are a mercenary, and you profit from chaos. It's a good story setup but there's even better action sequences. This is probably going to be the trademark for explosive interactive gaming. Mercenaries 2 lives up to every aspect of the title and I can't wait to see what the final product looks like. Mercenaries 2: World in Flames is developed by Pandemic Studios and will be available in 2007 for PlayStation 3, Xbox 360, PC and PlayStation 2.
Madden NFL 08
Feel what it's like to be an on the field general making key personnel decisions on both sides of the ball during the game's biggest moments in Madden NFL 08. Quickly identify your strongest players on the field before every snap then move them into position to make game-changing, momentum altering plays. Create mismatches and exploit weaknesses as you read and react with Madden NFL 08.
NASCAR 08
Finally, a Nascar game that doesn't look like crap! Gamers can finally take the wheel of the NASCAR revolutionary car and drive to the NEXTEL Cup championship in NASCAR 08. As the new rookie driver on the circuit, gamers will need to develop their racing skills to gain licenses and contracts from hungry owners and unlock legendary top performing cars from the biggest stars of NASCAR. Players can shre their car setups with the NASCAR online community, then challenge the field in live races with up to 15 other drivers.
NBA LIVE 08
When the game is on the line and the ball is in your hands, what will you do? Will you penetrate, drive the lane and rise above the rim for a monster dunk, or find an opening on the perimeter and sink a game-winning three? Take control of the game with a full arsenal to win the one-on-one match-up from every spot on the floor. Building upon a solid foundation of 5-on-5 gameplay, NBA LIVE 08 introduces a set of 4 all-new features – Quickstrike Ballhandling, own the paint, hot spots and signature go-to moves to increase user control, while providing an unrivaled level of authenticity to the sport of basketball. Now you can dominate with your Go-To Move with NBA LIVE 08.
The Orange Box
This is the compilation a lot of gamers have been waiting for. Well, mostly it's just Team Fortress 2, but the Half Life 2: Episode 2 and Portal additions just make the package look at that much more sweet. The Orange Box includes Half Life 2: Episode Two, Portal and Team Fortress 2 in addition to full versions of award-winning Half Life 2 and Half Life 2: Episode One for the most complete first-person action experience anywhere. The Orange Box will be available for Xbox 360, PlayStation 3 and PC in October 2007.
SimCity Societies
The return of one of PC gaming's most popular series – SimCity – is back! SimCity Societies is in development and is scheduled to hit retail stores this holiday season. Featuring an all-new, revolutionary feature set, SimCity Societies allows players to construct not only the cities they desire, but create their cultures, societal behaviors and environments as well. Build an artistic city, haunted town, green city, spiritual community or most any society you want! Using the accessible, innovative and versatile city-builder, players can create their own kind of city in SimCity Societies. Players start by choosing from a variety of more than 350 building types, each of which allows them to combine, connect and re-arrange structures freely. As each city evolves, players will be able to unlock new buildings that can help advance – or regress – their society. SimCity Societies is coming out Holiday 2007.
Tiger Woods PGA TOUR 08
Tiger Woods PGA Tour 08 for the Xbox 360 and PlayStation 3 is brimming with new features that will excite the fans of the game, fans of golf and fans of video games in general. There is an emphasis this year of user created content, which includes created characters, highlights or playable scenarios. Challenge your fellow golfers in an exciting new form of competition with EA SPORTS GamerNet. Save replays of a shot, hole, front nine, back nine, or entire round and post it online for other players to challenge. EA SPORTS GamerNet gives you the chance to share your greatest golf moments whenever they happen with other golfers around the world. Using Photo Game Face, gamers can easily create realistic faces for their created characters using digital photography. Photo Game Face takes user customization in video games to the next level.
Staff Writer at CinemaBlend.
Your Daily Blend of Entertainment News
Thank you for signing up to CinemaBlend. You will receive a verification email shortly.
There was a problem. Please refresh the page and try again.