Edge Of Space Free Beta Weekend Announced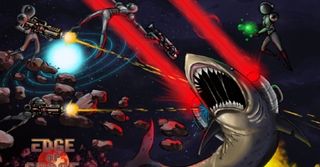 One of my most highly anticipated games is Edge of Space, an open-world, space-faring adventure game with a deep crafting system, terraforming and RPG mechanics. Reverb and Handyman Studios announced today that the beta for Edge of Space will be free this entire weekend, enabling gamers to check the game out at no extra charge.
As noted in the press release...
I love Edge of Space for its sort of Borderlands meets Terraria vibe. The game is just so freaking awesome. If you enjoy crafting armor, millions of weapon combinations and facing off against cannon-carrying bears, sharks with lasers and octo-cats, you'll love Edge of Space. This game has villains that are the envy of all other games.
If you feel like carving out a corner in your own section of the vast depths of space and battling universal oddities while making your character stronger through deliberate exploration into one of the most dangerous sections of the galaxy, then feel free to join in on the beta this weekend...while it's free!
You can learn more about Edge of Space by paying a visit to the game's Official Website, and please be sure to show a little love and support to the game over on Steam's Greenlight so we can see this awesome game finally appear on the Steam Store.
Staff Writer at CinemaBlend.
Your Daily Blend of Entertainment News
Thank you for signing up to CinemaBlend. You will receive a verification email shortly.
There was a problem. Please refresh the page and try again.