Elder Scrolls Online Hero's Guides Announced For Lore Fanatics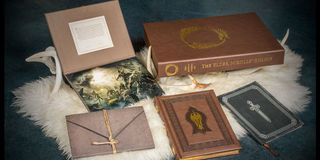 ZeniMax Online Studios and Dark Horse Comics have teamed up for special Hero's Guides inspired by Elder Scrolls Online. This set of hardcover books provides additional information on the story and world of the MMORPG.
"These three lovingly-crafted books are straight from the Second Era, full of knowledge and tales any scholar would treasure that can't be found anywhere else," ZeniMax explains on the Elder Scrolls Online website. "They come packed in a beautiful clamshell box perfect for display along with a miniature lithograph in a numbered portfolio."
The first book in the collection, Kyne's Challenge, is a Hunter's Companion that provides details on the various creatures players will encounter throughout Tamriel. Gathering Force is a guide to the various weapons and armor of the realm. Agents and Reagents, the last of the set, is a comprehensive guide to alchemy and enchanting ingredients.
The Hero's Guides collectively offer 272 pages' worth of writing and illustrations. The artwork was provided by Brynn Metheney, Roberto Gomes, David Keen, and Caio Cacau. The scribe is David S. J. Hodgson (opens in new tab), who previously wrote the Skyrim Legendary Guide among other things. Each book in the Guides set is styled to look like the sort of book you might find on a shelf within Elder Scrolls Online.
These tomes won't come cheaply, though. The set costs $100. They're intended for the extremely hardcore fan. As a result, Dark Horse is only publishing 10,000 of them in total.
The guides will begin shipping around April 14th. That's a week-and-a-half after ESO launches on the PC and Mac. I imagine you'll survive those first days in the game without the books' accumulated knowledge. While they might be informative for a player, the guides seem to be intended more as collector's items and lore resources.
You can further inspect the Hero's Guides in the image gallery below. The Bethesda Store, the exclusive seller of the guides, has PDF excerpts from the books so you can evaluate whether they'll make good toilet reading.
Elder Scrolls Online's beta will return this weekend for one last test. During this last beta event, players can try out the Explorer's Pack and Imperial Edition's in-game bonuses. They can also earn an exclusive monkey pet by participating in the beta.
Image 1 of 6
Your Daily Blend of Entertainment News
Staff Writer at CinemaBlend.