Elite: Dangerous Launches On Steam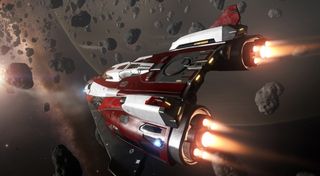 Frontier Developments crowd-funded indie game, Elite: Dangerous, has finally launched on Steam in all its glory. The game made it through the Kickstarter process and then had to overcome the Greenlight hurdle and then it eventually made it onto Steam's Early Access platform, and now it's graduated from Early Access and has officially launched for the masses.
The game is probably best described as a more action-oriented version of EVE Online. A lot of gamers have compared Elite: Dangerous to Cloud Imperium Games' Star Citizen, since they share a lot of similarities as far as content and scope go. Well, technically Star Citizen is going for the title of the biggest and grandest game ever made, but they do share similarities as far as organic, player-driven universes go in a large, interactive solar system.
As mentioned over on the Steam store page...
The "handcrafted" narrative is the thing that really gets the bristles burning and the stomachs churning. The game's evolving, persistent universe is based on player actions. This is where the similarities to EVE Online come into play, given that as players establish and grow factions, corporations, routes and technologies, rival factions and groups can also crop up, giving rise to wars, smugglers, crime, mercenaries and galactic enforcers. As mentioned, it's all about the organic player experience.
The reviews for the game are mostly positive, with one user, explorator, summing up the experience as follows...
There are some complaints from some users about the controls, and the view causing them to incur a bit of motion sickness. You can get a taste of what the game is like from a trailer Frontier Developments released of Elite: Dangerous a couple of weeks ago.
Surprisingly, they didn't release a more updated trailer for the official Steam release.
Anyway, fans of the original Elite are really diving in deep with the newest game, and while there are some complaints about bugs and glitches, the team appears to be handling the game's hiccups in strides with frequent updates and patches.
You can get your hands on Elite: Dangerous right now for $59.99 from over on the Steam store. You can also learn more about the game by paying a visit to the official website.
Staff Writer at CinemaBlend.
Your Daily Blend of Entertainment News
Thank you for signing up to CinemaBlend. You will receive a verification email shortly.
There was a problem. Please refresh the page and try again.