Enemy Territory: Quake Wars Pre-Orders Begin Today!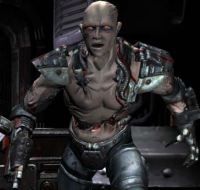 Scheduled to be released later this year, Enemy Territory: Quake Wars will thrusts gamers back into the fray with the Strogg. Recently, Activision has let loose a release indicating that gamers can pre-order a copy, complete with posters and collectors cards, starting today.
The only catch to pre-ordering is that Gamestop (opens in new tab) is the only one taking pre-orders, at the moment. Starting April 24th, Best Buy (opens in new tab) will join in on the pre-ordering extravaganza...giving gamers the opportunity to secure themselves a place in the Quake Wars.
The actual limited-edition collector's package will come in a snazzy slipcase, along with ten collector's cards. And for gamers who pony up the cash for this war-filled experience, they'll also receive a bonus DVD that'll be sure to tickle the fancy of the biggest Quake fans around. Below you can find details on the pre-order package.
Enemy Territory: Quake Wars Pre-Order Package:
• Advance Username Registration: Get an exclusive keycode to reserve your preferred username now.
• Collector's Cards: Receive the first 2 cards in a set of 12, each featuring a different Strogg or GDF vehicle or deployable with game facts and tips. The remaining 10 cards will only be available in the Enemy Territory: QUAKE Wars Limited Collector's Edition (see below).
• Poster: There are two posters in all, with each retail location offering one exclusive poster each.
Staff Writer at CinemaBlend.
Your Daily Blend of Entertainment News
Thank you for signing up to CinemaBlend. You will receive a verification email shortly.
There was a problem. Please refresh the page and try again.