The Facts About City Life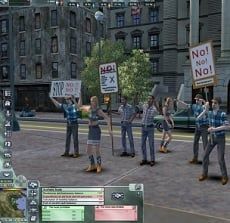 The World Edition of City Life is the follow-up to the acclaimed game, City Life. While Will Wright perfects the simulation of eating and excreting with The Sims, CDV is continuing the simulation of city manipulation with the World Edition of City Life. Players can now customize just about every aspect of their city and every building in that city.
In a fact sheet released by CDV today, players can get a little info on the upcoming city builder that gives players the in-depth option of customizing their own buildings. New landmarks and more gameplay features are poised for City Life's release, on January 15, 2007 for PC.
Fact Sheet
• Twenty-seven included terrains and over 300 distinct structures -- from run-down tenements and corner gas stations to elegant villas and imposing skyscrapers -- are available to challenge players
• New international landmarks such as the White House, Eiffel Tower, Kremlin and Statue of Liberty provide the opportunity to create a truly international metropolis
• Gameplay can be pursued in an open-ended sandbox mode or in a goal-oriented approach
• A powerful game engine takes into account population density, pollution, economics, education, the mood and social background of the citizenry, and much more to create a rich game experience
• An extensive city editor allows players to create sophisticated and challenging city management situations, while a new in-game building editor allows the modification of all buildings; these can then be shared online with the City Life: World Edition community
• Players can import MP3 music files to build and manage their city while rocking (or relaxing) to their own soundtrack
Staff Writer at CinemaBlend.
Your Daily Blend of Entertainment News
Thank you for signing up to CinemaBlend. You will receive a verification email shortly.
There was a problem. Please refresh the page and try again.