Fallout MMO Public Beta Launches In 2012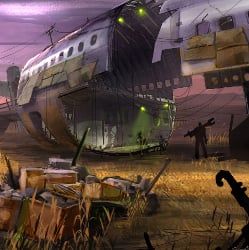 Today Interplay announced that "Project V13", their upcoming post-apocalyptic MMORPG based on the Fallout series, will utilize the engine created by Masthead Studios for their sci-fi MMO Earthrise. Shockingly enough, they also indicated when you can expect the game to arrive.
"Masthead's technology is impressive and perfect for our Project: V13. Its team is passionate to bring our vision and game play to the market," said Interplay Chairman and CEO Herve Caen in the press release. "This MMOG will have many unique features that we will disclose before launch of the public Beta in 2012."
All we've seen of the game so far is a few pieces of concept art. It's tough to imagine it as an actual game that people can play. The project will seem a little more "real" as they start to release information, though.
Bethesda and Interplay are still locked in a legal dispute over the MMO rights to Fallout. Depending on the outcome, "Project V13" could be released as either an official Fallout MMO or simply a post-apocalyptic MMO developed by "the original Fallout creators". The game is described as the latter in the press release, indicating that Interplay's aware they might lose.
Staff Writer at CinemaBlend.
Your Daily Blend of Entertainment News
Thank you for signing up to CinemaBlend. You will receive a verification email shortly.
There was a problem. Please refresh the page and try again.