Fight Night Round 4 Create-A-Boxer Breaks The Mold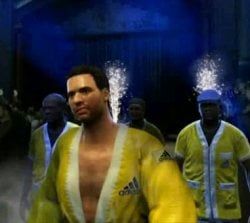 Due out on June 25th for the Xbox 360 and PlayStation 3, Fight Night Round 4 has already made huge waves in the way that it allows players to free-form fight and really get involved with the boxing. What you may not have known is that Fight Night Round 4 also contains a revolutionary new create-a-boxer system that will blow your mind.
We all expect sliding bars and a hefty selection of hair, skin colors and body types from most create-a-character features, but EA Sports have taken things one step further with face-importations. Now, this feature has been around since the late 90's. However, EA Sports has perfected importing one's face via a USB camera or from their website, by allowing users to easily alter and change every aspect of the boxer once the face has been imported. The transition is unbelievably smooth.
The following video trailer also documents how players can further add or strip away personality from their boxer with a wide variety of assorted parts, clothing items and accessories. In addition to this, you can further pimp-out your boxer with snazzy ring entrances (complete with custom soundtracks straight from your console's HD) and firework and walking options. It's not quite as deep as the create-a-wrestler feature from recent Smackdown Vs. Raw games, but it certainly is as innovative, if not more-so inclined to offer gamers more realistic looking created characters.
You can check out the new video doc for the create-a-boxer feature below. For more gaming news, info and updates, be sure to stay tuned in with Blend Games.
Staff Writer at CinemaBlend.
Your Daily Blend of Entertainment News
Thank you for signing up to CinemaBlend. You will receive a verification email shortly.
There was a problem. Please refresh the page and try again.