FireFall Dreadnaught Abilities Revealed In New Trailer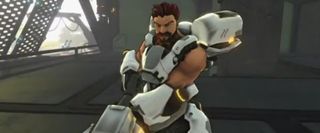 Red 5 Studios released a new trailer for the upcoming FireFall MMO third-person/first-person shooter. The trailer details the abilities, functions and specials that are at the disposal of the Dreadnaught build. If you enjoy obliterating any and everything in your path with a minigun, then the Dreadnaught is the way to go.
You can check out the new trailer for the Dreadnaught below, which goes over everything you need to know before deciding whether or not the heavy weapons specialist is the desired character you're planning on making.
As you can see, FireFall isn't the typical MMO. For one thing, it actually requires skill as opposed to macro-spamming. Unlike Global Agenda or other MMOTPS titles, the entire world is traversable and it's not broken down into lobbies (can I get a woot, woot?). There will be random event encounters such as city invasions, random boss battles and other group-based endeavors very similar to Rift. There's also character customization, which still plays a heavy part in players individualizing their avatars.
You can register to participate in the FireFall beta and try your hand at the new-generation MMO. All you need to do is head on over to the Official Website. FireFall is expected to go live before the year is out…oh yeah, and it's entirely free-to-play and not pay-to-win. Long live gaming!
Staff Writer at CinemaBlend.
Your Daily Blend of Entertainment News
Thank you for signing up to CinemaBlend. You will receive a verification email shortly.
There was a problem. Please refresh the page and try again.