Fourteen New Dragon Age Screenshots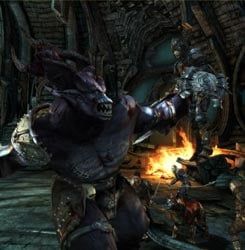 Somewhere past the throngs of October and November releases is BioWare's Dragon Age: Origins, due sometime in the beginning of 2009. Publisher EA is ramping up its release of media for the PC RPG and here's fourteen brand new screenshots courtesy of their PR department.
The good chunk of the shots are from combat sequences, and they lend credence to BioWare's claim that this game will be a spiritual successor to Baldur's Gate. When you're just idling running around, you'll have an over-the-shoulder, third-person perspective but during combat you can swing the camera out to a classic isometric perspective. It looks just like Baldur's Gate, though obviously with better graphics. The characters even have the little colored rings under them.
If still pictures aren't your bag, here's a video from Leipzig that shows off the combat system in real-time. As with BG, you'll be able to pause and assign actions to your party members. Good stuff.
Image 1 of 14
Your Daily Blend of Entertainment News
Staff Writer at CinemaBlend.