Free Team Fortress 2 Items With Left 4 Dead 2 Purchase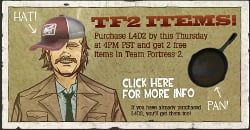 Valve decided to cross-promote two of their games today. A purchase of Left 4 Dead 2 through Steam will earn you two in-game items for Team Fortress 2.
Anyone who purchases L4D2 by Thursday at 4 PM PST will get a trucker hat and frying pan. I guess they sort of tie into L4D2. Ellis wears a trucker hat (albeit one of a different color) and the game features frying pans as melee weapons.
If you already own L4D2, you'll be able to get the items as well. They'll appear in your inventory "over the next few days."
Your Daily Blend of Entertainment News
Staff Writer at CinemaBlend.