Fresbo World: Build, Think And Play Creatively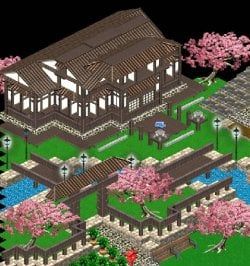 Fresbo recently announced that they have officially released their flash-based MMOG, Fresbo World. The game is especially unique in that combines a little bit of Sim City, Spore and Legos into one huge playground for the architecturally inclined.
According to the press release, playing the game "…is similar to the hobby shops' modeling kit, whereby the pieces of the little component parts is given to you in a box, and you are suppose to assemble them back into the original form, using a blueprint."
For those of you who are thinking that this game is a boring piece of crap…please take note that there are also free-forms of building. After completing a project there's an option to take the pieces and build something completely new and unique. The game also comes complete with single and multiplayer mini-games. So if you get bored putting stuff together and taking it apart, there's always a collection of mini-activities to keep you occupied…you know, just like how the Wii has a bunch of shovelware where the mini-games are designed to distract you from the rest of the game.
You can check out Fresbo World by visiting the Official Website. Uh, there's also a Facebook Page you can check out for the game, too. Oh, and don't forget about the Friendster bookmark. You might also want to check out Fresbo World at MySpace, in case you still hang out at the social network for stalkers. Ah, and last but not least, there's also a Bebo Page for the game.
For more gaming news, info and updates, be sure to stay tuned in with Blend Games.
Your Daily Blend of Entertainment News
Staff Writer at CinemaBlend.